True story- when i got married last year, i was hoping Eminem would show up at my wedding to surprise me.
Well that didn't happen!
One lucky couple however had something similar happen for them- Taylor Swift surprised them at their wedding! How cool is that? Let me start from the beginning.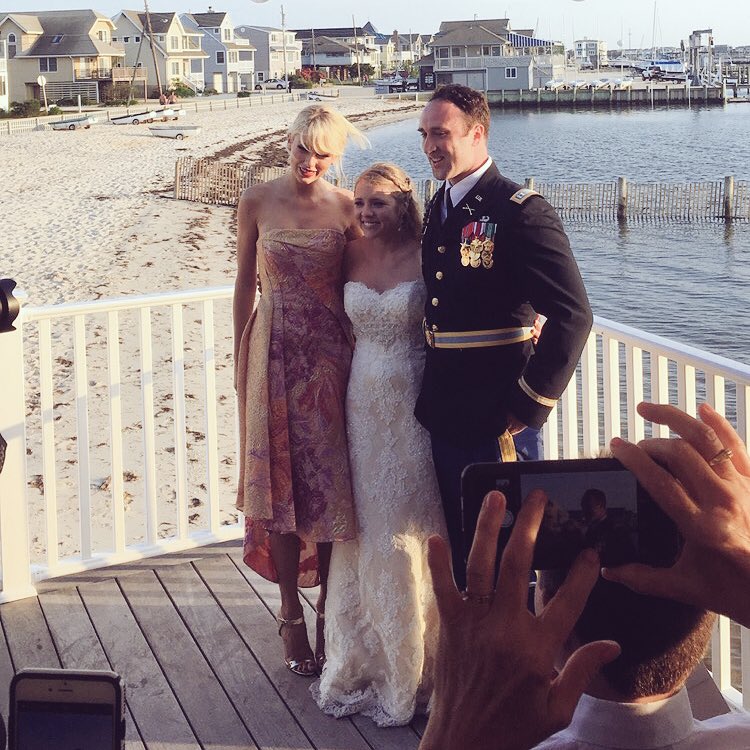 Max Singer and Kenya Smith were getting married on Saturday at the Brant Beach Yacht Club in Brant Beach, New Jersey when Taylor showed up! How did she even know about them? Turns out Max's Sister, Ali Singer, had written to Taylor Swift in April, telling her about how Max had married his wife first in their mother's hospital room, as she was dying, so she would not miss out on her son's wedding. She even told Taylor, that the mother and son had danced to the her new song 'Blank Space' in the hospital room, and shortly after the mother died. It must have moved Taylor, because she showed up at the wedding and even led a sing along to the song 'Blank Space'.
She took pictures and then gave them a special card with one line from the song 'Blank Space' written on it:
Hope some people like Funke and Mr A are reading this cos there WILL be an anniversary! So hint hint cough cough!
So if your wish could be granted, which Nigerian celebrity would you like to crash your wedding and surprise you?